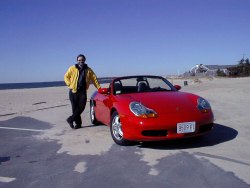 James J Dempsey
---
What I do
I'm currently CTO at FYItag, an early stage startup working on tools for Social Media Marketing.
Before FYItag, I worked at Comverse in the Comverse Media Server group. I was with Comverse ever since they bought InTouch Systems, a small startup in Cambridge, MA. When I joined InTouch in Feb 1997, there were only six employees. While at Comverse, I worked on Tel@GO, a voice-activated telephone assistant; the Comverse Media Server, a high performance, standards-compliant telco-grade VoiceXML media server; the Network Address Book, Java-based SyncML server; and IVE, a graphical programming environment built in Java for developing VoiceXML applications.
Before InTouch, I worked at Bolt Beranek & Newman for sixteen years. I had a great time there and still have friends at BBN. In the time that I was there, I worked on many things. My wife Heidi also works at BBN, managing development in the QoS Services and VPN groups.
BBN was purchased by GTE, GTE merged with Bell Atlantic to form Verizon. Verizon spun off the former BBN Planet (a.k.a GTE Internetworking) to form Genuity and kept the former BBN S&T as BBN Technologies. Later, BBN was repurchased from Verizon by a private group of investors and is now, once again, an independent company.
---
Random Other Stuff
Do you have a Fujitsu P8010 laptop computer in need of a new disk drive? Here's the instructions you were looking for.
Looking to buy a digital camera? Here's what I think.
I am the author of xrsh, a tool for launching X11 clients on remote machines. Xrsh takes care of all the bookeeping of setting the remote $DISPLAY and handing authentication. It can be downloaded as a shar file here.
If you are interested in Lisp, or computer languages in general, take a look at why "Worse is Better" .
If you are thinking of buying a computer, then I'm sure you want to know the myriad reasons why a Macintosh is better .
If you need a map to all of Apple's web sites, check out this one from Guy Kawasaki.
My dear friend Susan Bernstein left BBN after 16 years to become an independent consultant. Here are some pictures from her going away party. Here is a collage of pictures we took for her party.
Susan Bernstein and I held a "Good luck" party for Larry Denenberg who left BBN after 12 years to join the startup InTouch Systems. Here are some pictures.
I'm a fan of German cars. If you would like to see a comparison of the Porsche Boxster with the show car from which it was inspired, then check this out. If you would like to see some pictures from the Porsche Club of America NE Region Boxster introduction, click here.
I took some pictures at German Car Day at the Museum of Transportation.
I took some pictures at Porsche Club of America New England Region Autocross at Ft. Devens.
I had a lot of fun at the Porsche Club of America Concours in Sept 1997. Here are some pictures.
Anne-Marie Lambert organized a reunion of the BBN Network Analysis Group in Fall 1997.
---
My current email address is: jjd @ jjd.com.
I've been on the "Internet" since about 1979, my first address being JJD@ MIT -MC and my second being JJD@BBN-UNIX. Later, for many years I was jjd at bbn.com.
Click here if you want my PGP key.
James J Dempsey
Last modified Jan 2006.